Currency / Währung
Active thigh/groin brace with straps AS-U-01
Availability:
ask for availability
Dispatched within:
48 hours
add to wish list
* - Field mandatory
Description
What is the leg support AS-U-01?
Thigh/groin brace AS-U-01 protects leg against the injury. Pull of the muscles is very painful.
Our AS-U-01 thigh sleeve is anatomic-shaped brace with orthopaedic stays and polyamide buckles. There are elastic, easy to attach, circumferential straps with Velcro fasteners. Trial Compressive System allows to adjust the level of compression in different thigh areas according to condition and needs.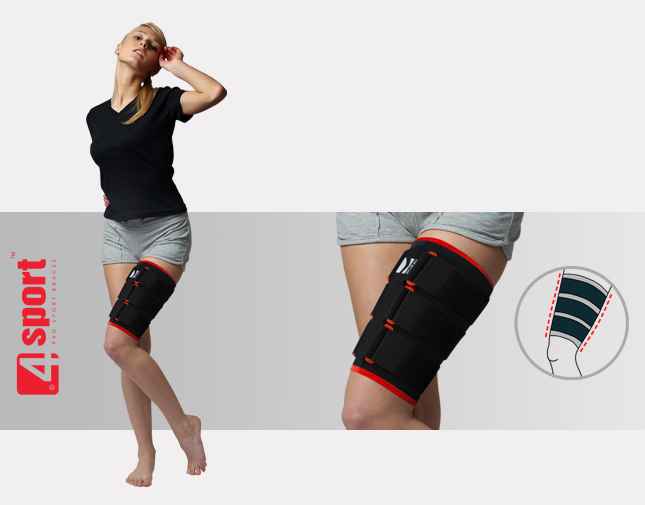 How does it work?
The thigh has three sets of strong muscles: the hamstring muscles in the back of the thigh, the quadriceps muscles in the front, and the adductor muscles on the inside. The quadriceps muscles and hamstring muscles work together to straighten (extend) and bend (flex) the leg. The adductor muscles pull the legs together.
The hamstring and quadriceps muscle groups are particularly at risk for muscle strains because they cross both the hip and knee joints. They are also used for high-speed activities, such as track and field events (running, hurdles, long jump), football, basketball, and soccer.
Which size do I need?
Technical data
| | |
| --- | --- |
| Color | Black/red |
| Side | Universal |
| Latex free | Yes |
| Warranty | 12 months |
| Gender | Unisex |
| One size | No |
| Indications | - enthesopathy, - bruising, - muscle pull - strain and rapture of soft tissues - stressed thigh muscles - pain in the groin area during activity |
Product reviews (0)