Currency / Währung
Elbow immobilizer with hand splint and adjustable rom AM-KG-AM/1RE
Availability:
ask for availability
Dispatched within:
48 hours
add to wish list
* - Field mandatory
Description
What is the upper limb support AM-KG-AM/1RE?
Elbow Rom Brace AM-KG-AM/1RE was developed to provide full stabilization of the upper limb, including elbow joint, wrist, carpus, metacarpus, phalangeal and interphalangeal area.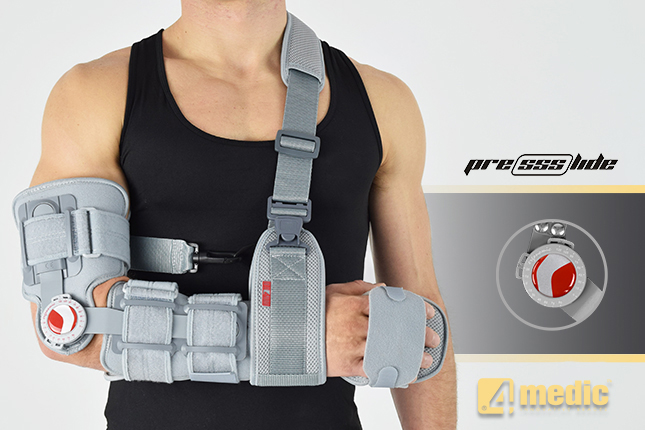 How does it work?
The Orthosis is provided with Splint Mod. 1RE- single axis, Range of Motion- regulation each 15º increments, hyperextension -15º and -30º.
The characteristics of Splint 1RE- provides full stabilization of Elbow Joint, ultra-light weight, the regulation of range of motion is obtained WITHOUT USE of any additional tools, splint safety system prevents unauthorized adjustments of the flexion and hyperextension. The wrist support contains the wrap-around stabilization strap on fingers. The arm sling supplied with the brace is additionally equipped with comfortable pad on shoulder. Splint 1RE is made of high quality Aluminum Alloy and plastic material reinforced with Carbon Fibre. The materials composition avoids the deterioration of the splint caused by sweat and guarantees the correct functionality of the hinge.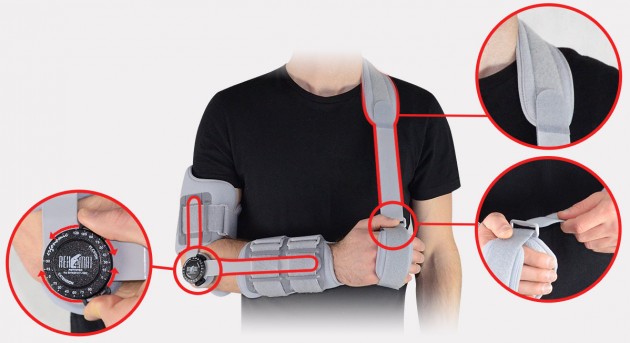 The wrist immobiliser is equipped with anatomically shaped palm strip provided with length regulation system.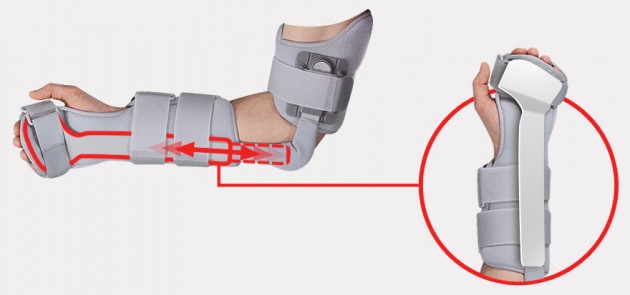 In order to obtain the perfect adjustment and fitting on upper limb, the arm and forearm cuffs incorporate the polyethylene buckles allowing adjustment of velcro straps. The Wrist supports is provided with Fingers Separator and Arm Sling.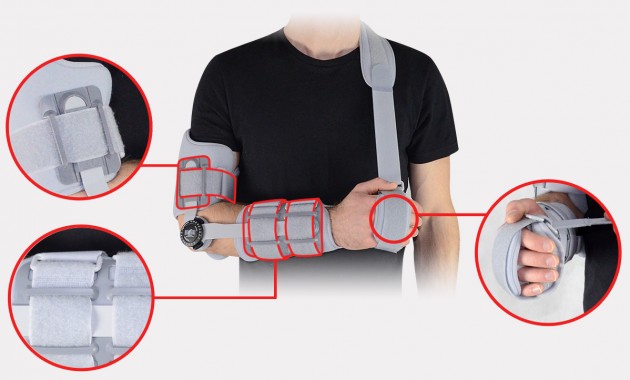 Per customer request, the standard separator may be substituted for neurological separator which stabilizes each finger separately. Extra price.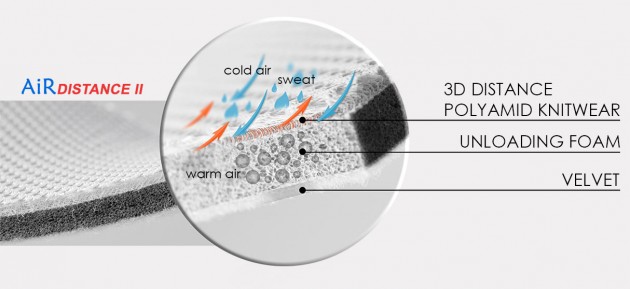 AirDistance II is an innovative technological fabric. It's 3-layered lamination, made of 3 parts: durable and self-gripping and polyamide layer, off-loading EVA foam and polyamide 3D spacer material. External part is used to attach hard components. EVA foam off-loads these splints and internal 3D spacer layer provides high air permeability and minimal water and moisture absorption. It is also waterproof.
Which size do I need?
Technical data
| | |
| --- | --- |
| Color | Grey |
| Side | Left, right |
| Latex free | Yes |
| Warranty | 12 months |
| Gender | Unisex |
| One size | No |
| Indications | Elbow instabilities Medial or Lateral Epicondyle Fractures Postoperative care after prosthesis implantation Postoperative care of elbow ligament instabilities Rheumatoid arthritis During rehabilitation process Central or Peripheral neurological injuries |
Product reviews (0)