Currency / Währung
Hyperextension Brace with Mobile Pelvic Band AM-GJ-01
Availability:
ask for availability
Dispatched within:
48 hours
add to wish list
* - Field mandatory
Description
What is the torso support AM-GJ-01?

Spinal Hyperextension Brace with Mobile Pelvic Band AM-GJ-01 is designed to provide stabilization on spine, 3 points pressure system (sternum, suprapubic and dorsal) which allows extension of the spine but prevents flexion, or bending of the spine. Hyperextension Brace helps to control and support spinal posture,helps reduce pain, prevents further injury. It is often prescribed for the treatment of compression fractures. The brace stabilizes the spine from L-3 to Th-10.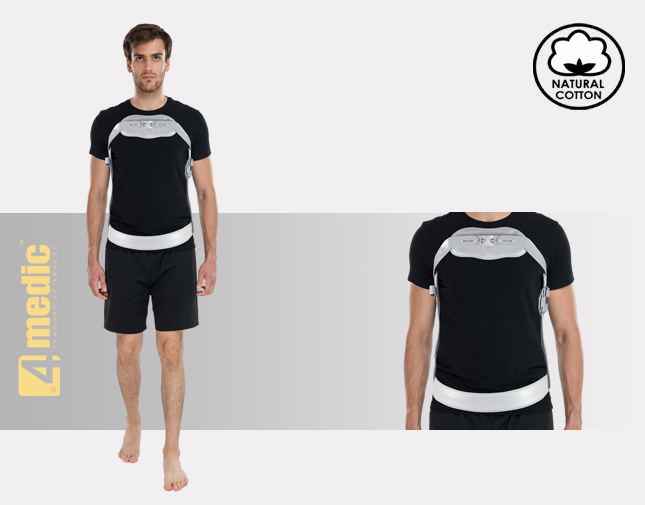 How does it work?
nside padding is made of comfortable foam lined with cotton terry cloth. It consists of anterior metal frame covered by medical laminate,which protects the skin of frictions in the pressure points. Hyperextension Corset AM-GJ-01 is made in high quality aluminum alloy, covered by permanent sand painting. Upper frame is equipped with mobile sternal plate, mobile pelvic band and mid-back area plate.
The corset is provided with alloy key for height, length, lateral and pelvic adjustments.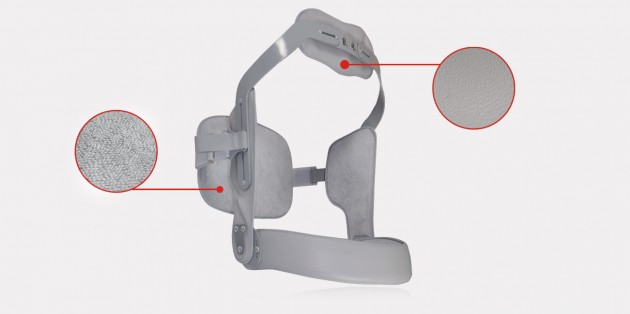 Pelvic mobile band is provided with whole regulation system to fix the perfect angle or make it mobile for better comfort of patient while sitting. The corset is provided with alloy key for height, length, lateral and pelvic adjustments. Adjustable plate in back is made of plastic allowing to be fit in two different positions. The fitting of the corset is obtained by back strap and lateral buckle closure, which allows control the individual tension.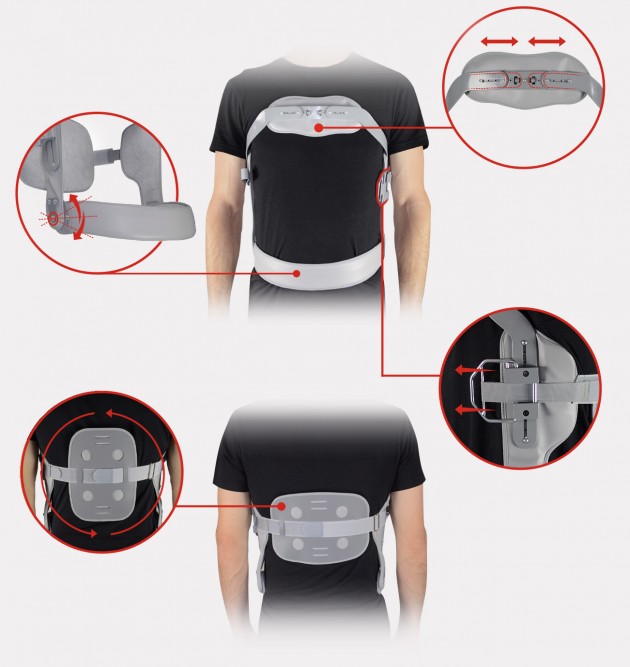 Sanmed II is an innovative and very friendly for human skin fabric. It's possible to sterilized so it can be used by large number of patients. This material is lightweight and easy to form. What's the most important, Sanmed II can be used in places with high risk of infections, because it consists of antibacterial components based on silver zeolite (AgZ). It provides long-term efficiency and prevents against even the most infectious bacerias such as MRSA or E.coli. Sanmed C463 meets the condition according to the Health Minister`s ordinance of 3 November 2004 and Council Directive 93/42/EWG of 14 June 1993. Additional asset of the Sanmed II is vapour permeability and water-resistance. That's why it is used as an cover of waterproof anti-bedsore hospital mattresses and couches. In addition, our fabric holds Oeko-Tex Standard 100 certification what proves about its chemical neutrality for human skin. Waterproof material.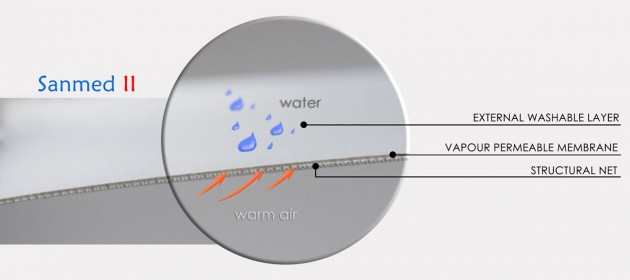 Which size do I need?
Technical data
| | |
| --- | --- |
| Color | Grey |
| Side | Universal |
| Latex free | Yes |
| Warranty | 12 months |
| Gender | Unisex |
| One size | No |
| Indications | Vertebral compression fractures ( traumatic and pathology), Osteoporosis, Vertebral Pain caused by secondary metastasis, Mid immobilization after disc surgery, Vertebral arthritis. |
Product reviews (0)