€9.33 €4.17
Close High Abdominal Belt
€10.40 €4.17
Asymmetric Single Splint Knee Brace With 15° Rom Adjustment
Availability:
ONLY FEW IN STOCK
Description
ASYMMETRIC SINGLE SPLINT KNEE BRACE WITH 15° ROM ADJUSTMENT
Product description
Asymmetric single-side knee brace AS-KX-01 is equipped with one orthopaedic stay and one splint with ROM adjustment in every 15°.
The brace is profiled for right or left leg.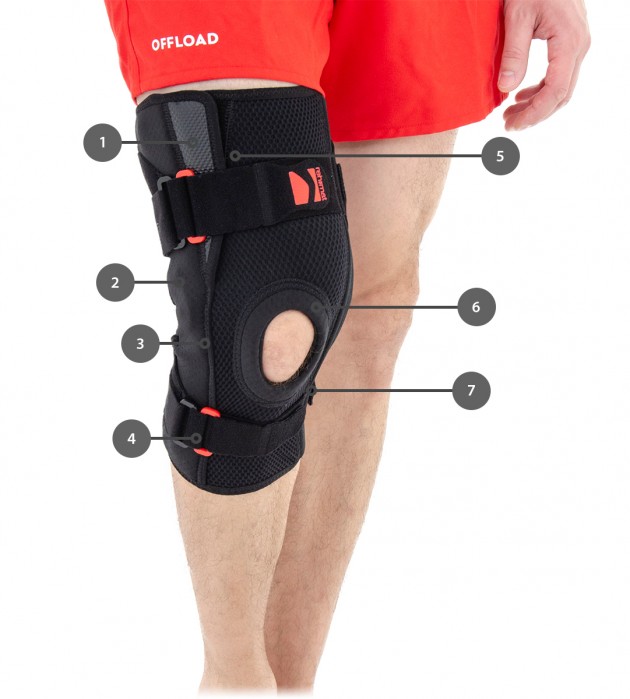 | | | |
| --- | --- | --- |
| 1 | | Open thigh part facilitates ease of application and removal. |
| 2 | | Off-loading splint 1R with rom adjustement in every 15 degrees. |
| 3 | | Silicone condyles pads protect bone prominences. |
| 4 | | The wraparound thigh and sleeve calf facilite to put the brace on and off easy. |
| 5 | | ProSix – thin and lightweight fabric provides comfort by moisture absorption. |
| 6 | | Patella donut absorbs shocks and support patellofemoral joint. |
| 7 | | Orthopedic stay stabilize your knee additional. |
The brace is made of innovative ProSix™ material, which fits to the body and breath precisely. This special construction provides micro-massage of the patient's skin what improves the blood circulation.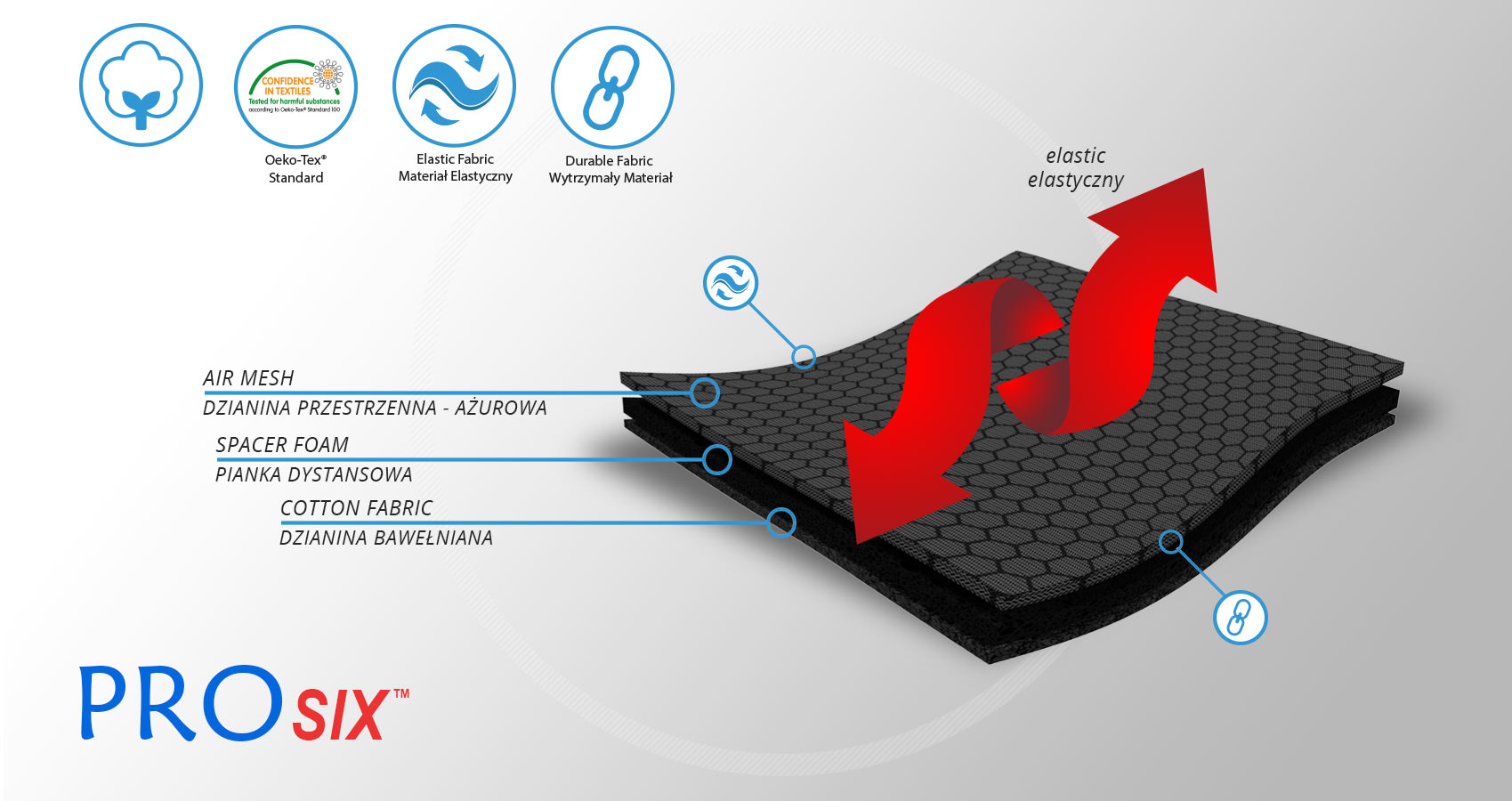 ProSix™ is an innovative fabric 3D, elastic in all directions and fitting to the limb precisely. External layer is 3D material providing excellent stabilization. There is duothermic spacer foam providing high air permeability and compression inside. The skin has contact with cotton that is breathable and soft. ProSix™ is friendly and neutral for the skin and has Oeko-Tex Standard 100 certificate.
On the hinge are special supported pellotes, what allows to distribute forces on the knee and stabilize the joint.
The fastener is padded with special material out, what facilities putting the brace on and limits the sliding.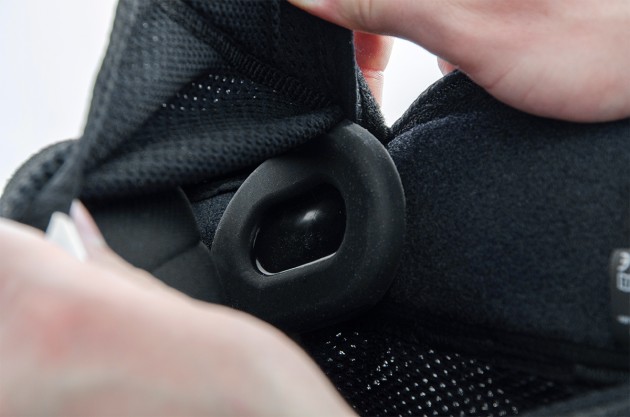 The device holds two circumferential straps in the frontal and rear side – you can use only frontal straps or, if you need better stabilization, both.
Inside is silicone pellote, which protects knee joint during the correction. In the external side are two orthopaedic stays which provide better stabilization.
The splint allows to adjust the ROM in every 15°.
Splints 1 R (mini) – are 1-axial orthopaedic device, which is mostly in braces, where splints are closed in special sides pockets. It is used also when the brace's low weight is very important. Splints 1 R (mini) are made of high quality aluminium hot covered by special powder surface, what makes them neutral to patient's sweat. The knee flexion and extension adjustment is made with special Allen screws in every 15° – to each brace we add special Allen key, which is necessary for this activity.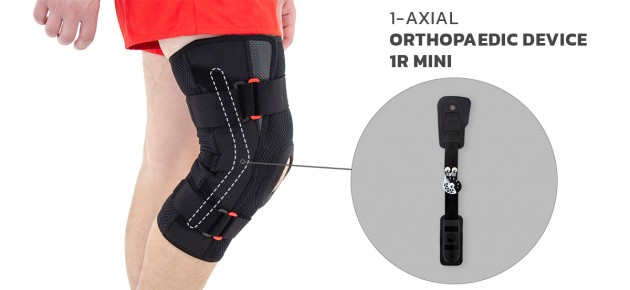 What is more, the splint is rimmed with material what protects knees against the scrapes.
AS-KX-01 holds the lateral open pocket where you can hide the splint. The splint is made of sanded aluminium, durable cover which what makes splints neutral to the influence of sweat and salt.
The brace is created to protect valgus or varus knee.
Purpose of use
AS-KX-01 brace should be applied in cases of:
varsus or valgus knee,
osteoarthritis (OA),
knee instability caused by injury or neurological conditions,
after injuries (e.g. LCL, MCL or ACL strains),
the muscle insertions injuries,
in rheumatoid diseases,
prophylactically in sport.
Available sizes
Size
Knee circumference
How to measure
S
30-34 cm
(11,8″-13,4″)
M
34,5-38 cm
(13,6″-15″)
L
38,5-42 cm
(15,2″-16,5″)
XL
42,5-46 cm
(16,7″-18,1″)
XXL
46,5-50 cm
(18,3″-19,7″)
Total length: 34 cm (13,4″)
Left/right side available.
Shipping costs The price does not include any possible payment costs
Product reviews (0)