Currency / Währung
FIX-KD-19 PEDIATRIC NEOPRENE HIP BRACE WITH ROM ADJUSTMENT
Availability:
ask for availability
Dispatched within:
48 hours
add to wish list
* - Field mandatory
Description
Special features
| | |
| --- | --- |
| | HIP BRACE |
| | FOR KIDS |
| | I CLASS MEDICAL PRODUCT – the products is registered and patented medical device class I |
| | 24/7 THERAPY – the brace may be used for all day long immobilization and stabilization in daily activities |
| | BREATHABLE |
| | WATERPROOF |
| | MAGNETIC JOINT 1R ORTHODESIGN |
| | CAST REPLACEMENT – replaces to uncomfortable plaster cast |
Transient synovitis
It is one of the most common causes of joints infections. It is called also irritable hip. Transient synovitis usually affects children between three and ten years old and boys are affected two to four times as often as girls. The condition causes the inflammation of many joins: knees, ankles, wrists,elbows and hips. The reason is unknown. Together with inflammation occur fever or rash. It is important to do a lot of tests to differ the transient synovitis and viruses or bacteria.
Transient synovitis is painful and may reduce joint mobility. Due to this fact the joint support is very important. Our hip brace FIX-KD-19 is perfect for supporting and off loading the hip joint.
Indications
Transient synovitis
Perthes Disease (avascular necrosis)
Hip deformations
Hip dislocation
Femoral fractures
Acetabular labrum injury
Product's description
Hip brace FIX-KD-19 is made of thin, colorful neoprene which provides constant compression and warmth of the hip girdle. The brace is equipped with aluminum splint and range of motion adjustment in every 15 degrees. The splint supports and offloads the overused joint and prevents against the malalignment. Also, it reduces the excessive hip rotation, abduction and adduction. Smooth adjustment of range of motion provides excellent joint control or immobilization.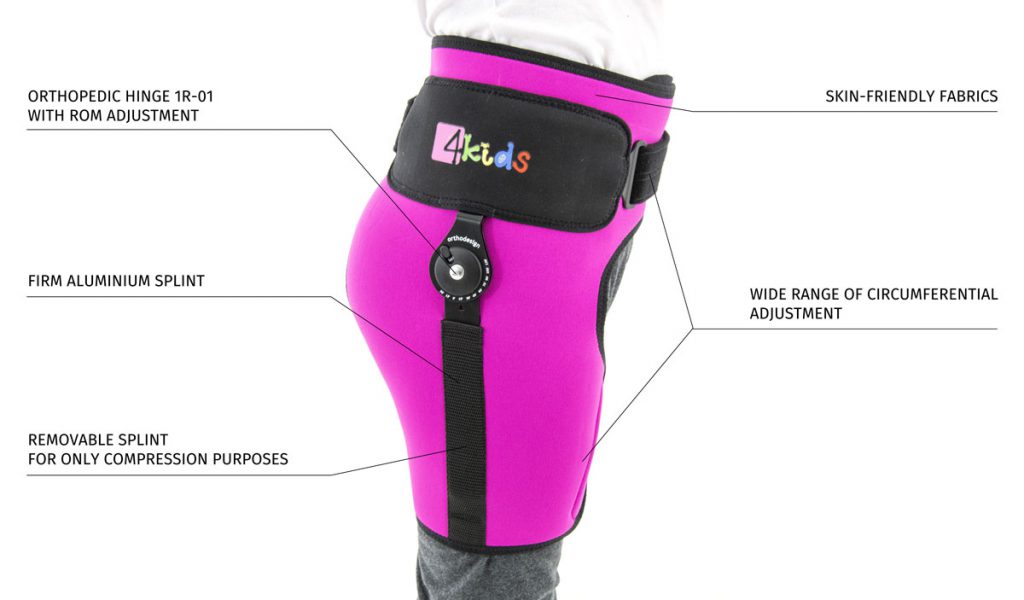 Pediatric hip brace FIX-KD-19 is made of thin lightweight neoprene. Hip compression and stabilization reduces the pain and inflammation. What is more, the neoprene is waterproof and the child may take a shower wearing our brace.
Day-to-day using of our hip brace FIX-KD-19 supports overused hip joint and reduces the inflammation due to injury or chronic condition. The brace is much effective and lighter than ordinary plaster cast.
Available sizes
Size

Waist circumference
(A)

Thigh circumference
(B)
Typical age
How to measure
1
min 40 – max 60 cm
min 25 – max 35 cm
2 – 9 years
2
min 45 – max 70 cm
min 30 – max 40 cm
8 – 12 years
Right and left hip specific .
Total length of the product:
1: 28 cm
2: 37 cm
The product is sent in a random color.
Product reviews (0)