Finger Splint
Availability:
ONLY FEW IN STOCK
Description
FINGER SPLINT
Product description
AM-D-02 finger immobilizer splint is the universal orthosis, developed to be used for dorsal or palmar immobilization, for Right as well as Left hand.
The Splint is intended to immobilize the distal interphalangeal joints and carpometacarpal joints of the fingers as following: index finger, middle finger, ring finger and little finger. The ortshisis is not recommended for Thumb stabilization.
The orthosis is equipped with self-adhesive velcro strap for finger stabilization, as well as thin fitting circumferential strap.
The thin strap consists in optional protection, which could be totally removed according to the Doctor or specialist recomendation if necesarry.
The Orthosis is provided with anatomically shaped, malleable and removable aluminium splint.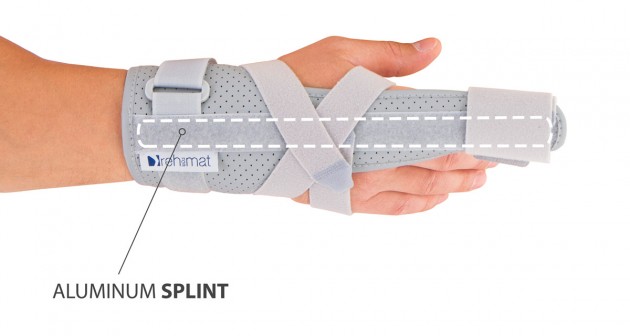 The fitting on the Wrist is obtained by circumferential Velcro strap, which additionally provides stability at the wrist joint and protects against to unwanted opening.
The Finger Splint is made of AirSanmed™.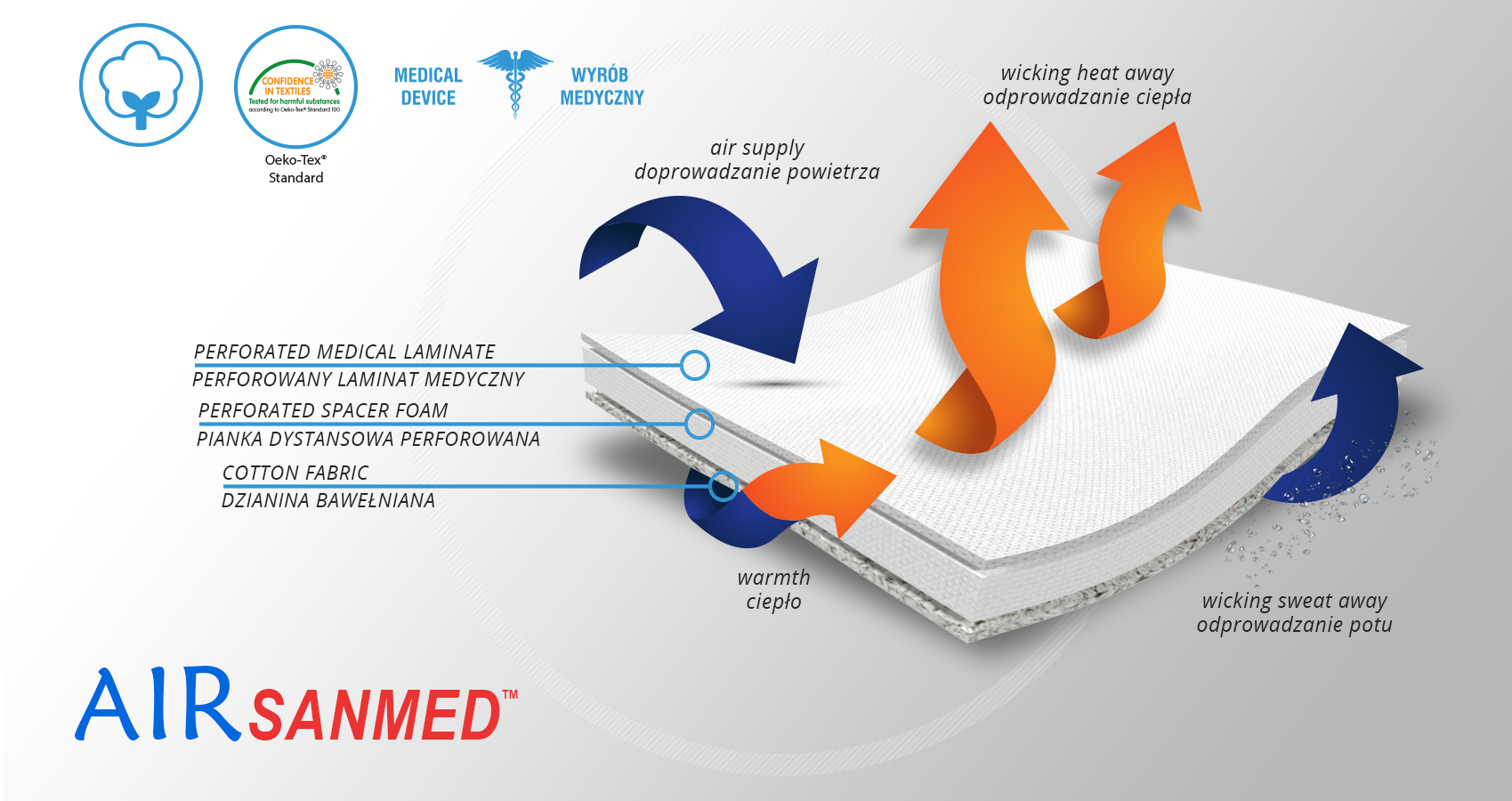 AirSanmed™ isn't elastic what provides excellent stabilization. The skin has contact with cotton terry with Oeko-Tex Standard 100 certificate. There is semi-rigid perforated foam EVA inside that protect the skin against the metal splints influence. External side of the fabric is perforated medical laminate with antibacterial properties of Silver Zeolite. It provides long-term efficacy and prevents the most dangerous infectious microorganisms such as MRSA and E.coli. AirSanmed™ is in accordance with Health Minister`s ordinance of 3 November 2004 and Council Directive 93/42/EWG of 14 June 1993.
Available sizes
Size
Distance from the wrist to the end of the finger II-V (A)
Wrist circumference (B)
How to measure
M
14 – 18 cm
5.5″ – 7,1″
min 13 – max 26 cm
min 5,1″ – max 10,2″
L
18,5 – 22 cm
7,3″ – 8,7″
Fits for both hand.
Total length of the product:
M : 21 cm (8,3″)
L : 27 cm (10,6″)
Purpose of use
II-V fingers fractures
Injuries of collateral ligaments of MCP joints
II-V fingers dislocations
rheumatic diseases of II-V fingers
Properties
Provides optimal stabilization of distal interphalaneal joints by individual fitting.
Possible to adjust the angle of distal flexion to be immobilized.
Breathable fabrics that is used in construction of the splint, provides great comfort to the patient.
Easy fitting.
Functionality
Immobilization of digit with slight stabilization of the wrist
Shipping costs The price does not include any possible payment costs
Product reviews (0)