Close High Abdominal Belt
€14.01 €4.30
€12.57 €4.30
MCL Single Upright Knee Joint Support With Rom Adjustment And Dynamic Spiral Belt
Availability:
ONLY FEW IN STOCK
Description
GRAFT
MCL SINGLE UPRIGHT KNEE JOINT SUPPORT WITH ROM ADJUSTMENT AND DYNAMIC SPIRAL BELT
Product description

3 POINT BRACES
They are dedicated for patients to lighten the medial or lateral side of the knee joint. 3 points system allows to lighten articular surfaces of the femur and tibia, to reduce pressure on injured articular cartilage and decrease irritated pain receptors, which is maximum during the midstance (MST). Reducing the stress on the condyles helps to set the articular surfaces adequate against each other, what prevents knee valgus or varus.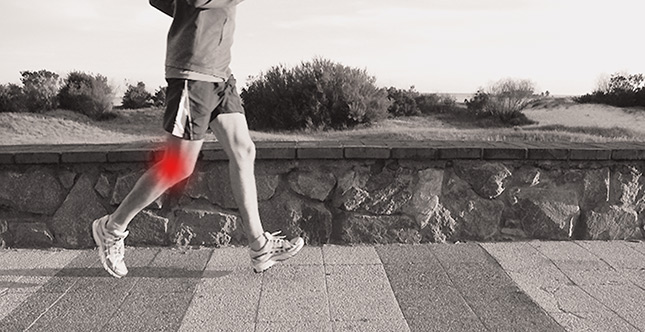 HOW THE 3 POINTS SYSTEM WORKS

The first support point is the sleeve connected with splint, which stabilize the brace on the thigh on the stressed side (medial or lateral).
The second support point is the sleeve connected with splint also, which stabilize the brace on the shin on the stressed side (medial or lateral).
The third one is the spiral strap connected with the hinge and 2 straps above and under joint axial (on the femur and tibial condyles) – this solution reduces 50% pressure straps on the shin and thigh on the opposite site to supported.
Key element of the 3 Points System is the hinge. The polycentric hinge with edge and rotation movement during knee flexion facilitates maintenance the hinges in the knee axial.
Single splint knee brace AM-OSK-ZJ/2RA is the professional medical device, which increases the gait quality and is the support in rehabilitation of the locomotor system. It is made of ProSix™.
ProSix™ is an innovative fabric 3D, elastic in all directions and fitting to the limb precisely.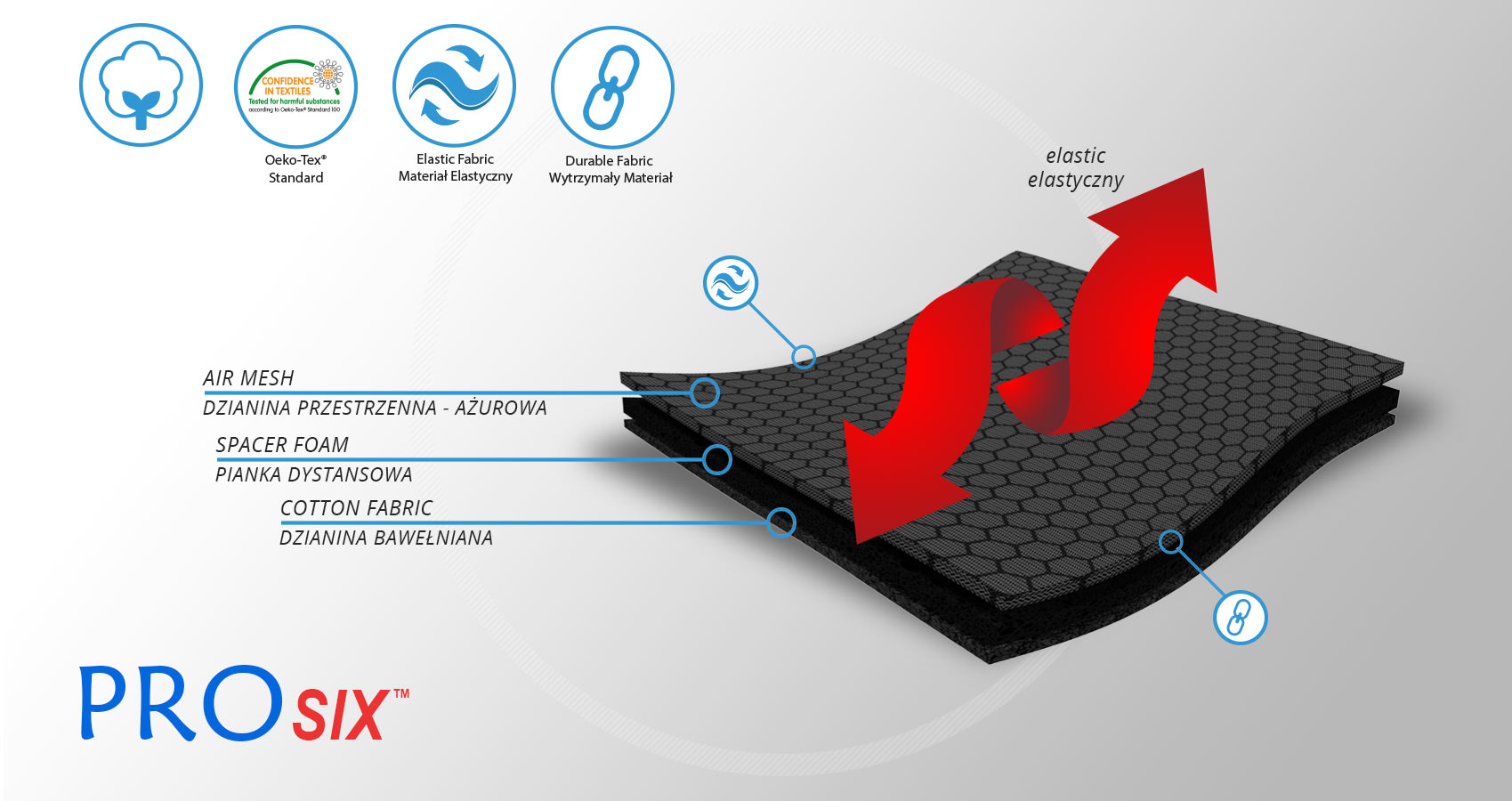 ProSix™ is an innovative fabric 3D, elastic in all directions and fitting to the limb precisely. External layer is 3D material providing excellent stabilization. There is duothermic spacer foam providing high air permeability and compression inside. The skin has contact with cotton that is breathable and soft. ProSix™ is friendly and neutral for the skin and has Oeko-Tex Standard 100 certificate.
The rear part is made of ProFit™.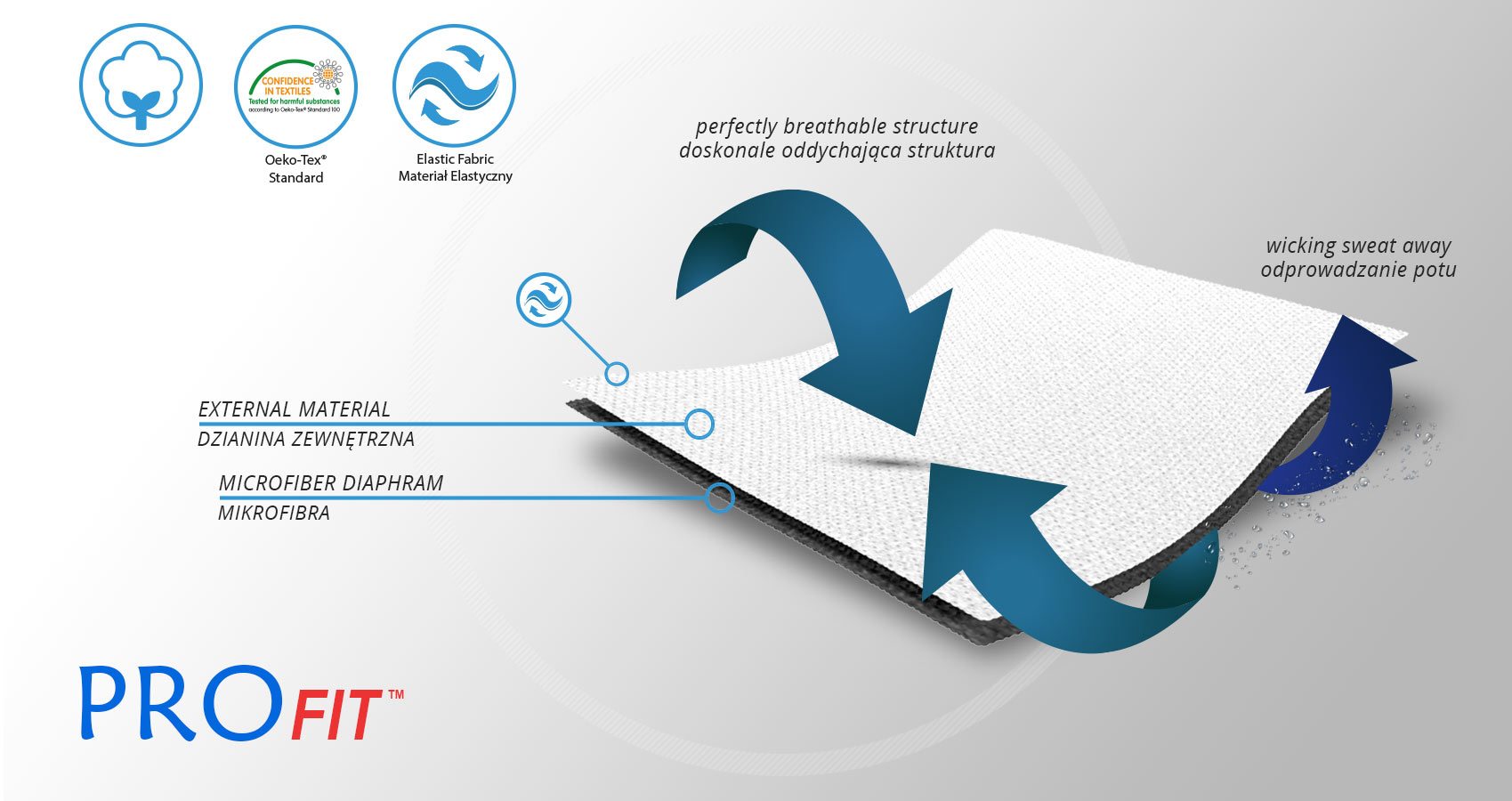 ProFit™ is a double-layer fabric that is elastic in all directions and fits to limb precisely. The external side is made of spandex providing excellent compression and absorbs muscle shocks in physical activity. The internal side consists of microfibre, cotton and elastane what makes it skin-friendly, breathable and provides velvet softness. ProFit™ is friendly and neutral for the skin and has Oeko-Tex Standard 100 certificate.
The brace is equipped a diagonal dynamic spiral force strap tightens when the knee is extended, it resists valgus forces and minimizes axial rotation. What is more, adjustable tibial strap provides tibial capture and improved suspension. It consists also of single splint 2RP with ROM adjustment. The brace stabilizes knee joint and prevent the valgus. It is highly recommended in knee degeneration, MCL injures connected with knee instability.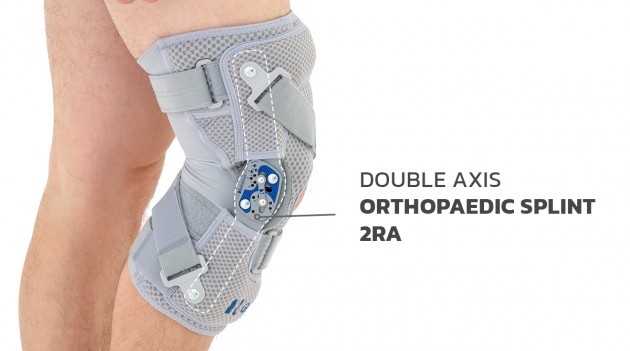 Purpose of use
AM-OSK-ZJ/2RA brace should be applied in cases of:
knee dislocation,
knee twist and sprain,
side instability of the knee joint,
knee ligaments injures – especially MCL and ACL injury,
knee ligaments reconstruction,
other surgeries (orthopedic),
excellent prophylaxis in sport.
Available sizes
Size
(A) Thigh circumference 15 cm above the center of the patella
(B) Calf circumference 15 cm below the center of the patella
How to measure
S
40 – 44 cm
(15,7″-17,3″)
30 – 34 cm
(11,8″-13,4″)
M
44,5 – 48 cm
(17,3″-18,9″)
34,5 – 38 cm
(13,4″-15″)
L
48,5 – 52 cm
(18,9″-20,5″)
38,5 – 42 cm
(15″-16,5″)
XL
52,5 – 56 cm
(20,5″-22″)
42,5 – 46 cm
(16,5″-18,1″)
XXL
56,5 – 60 cm
(22″-23,6″)
46,5 – 50 cm
(18,1″-19,7″)
Right and left leg specific.
Total length of the product: 35 cm
Splints 2RP
Double axis splint 2RP is the orthopaedic splint that reflects anatomic knee movement while flexion. The drop locks do not change their position relative to the axis of a knee joint. 2RP splints are reinforced polycentric splints, equipped with an articulated mechanism, the main element of which are sliders moving on parabolic tracks. These type of splints is primarily used in knee braces, where strong lateral stabilization of the knee joint and precise regulation of its mobility are essential. The arms of the splint are made of high-quality aluminum alloy, hot-coated with a durable powder coating, what makes them very light. Moreover, their surface is resistant to patient's sweat and salt contained in it. The drop locks are made of very durable and strong acid-resistant steel in which a special hole system with threads were made. The splints are waterproof and can be used in wet and humid environments.
The splint is equipped with the hyperextension knee lock and has following angles of joint flexion: free joint, 10, 30 ,40, 60, 75, 90 degrees and the following angles of joint extension: 10, 20, 30, 40 degrees. The ROM adjustment is made with a special, hardened screws placed into threaded holes marked with a specific angle value we want to lock. In this kind of splint, you can lock not only the angles of flexion and extension of a knee joint, but also the desired range of knee joint movement. Each brace equipped with 2RP splint comes with a free Allen key for these settings. This method of adjusting drop locks in orthopedic splints prevents from their setting by unauthorized persons who do not have a key. The bottom part of the drop lock has an oval shape that allows you to attach a soft anatomic pad made in 3D technology that separates drop lock from the knee. All movable elements of the splints move on galvanized steel rivets and in order to prevent them from seizing, special Teflon sliders were used in these places. Such a construction ensures their maintenance-free operation.
ATTENTION: If the brace is equipped with two side splints, the adjustment should always be made separately on each of the splints, setting the range of motion at the same angle of flexion, extension or lock. Failure to comply with this role will be resulted in the loss of the product warranty.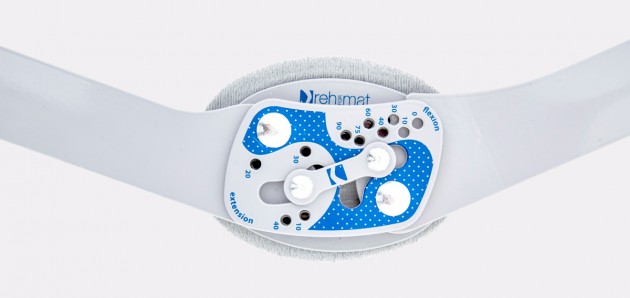 Shipping costs The price does not include any possible payment costs
Product reviews (0)