Close High Abdominal Belt
€14.01 €4.30
€12.57 €4.30
Thoracic-Lumbar Brace With 2 Step Rehabilitation Progress Stabilization Unit
Description
Lox
THORACIC-LUMBAR BRACE WITH 2 STEP REHABILITATION PROGRESS STABILIZATION UNIT

Product description
Lumbar support belt high chest with inelastic tightening bands 4Flex – Lox is one of the tallest and strongest stabilizing the trunk orthoses offered by REH4MAT. It was made according to a new more anatomical shape, so that the product adapts better to each figure and much better stabilizes lumbar – thoracic spine.
The back part of the orthosis is made of new innovative material AirSanmed II™.
AirSanmed II™ is a multi layered intelligent orthopedic textile which is perfect for orthopedic braces production. It helps to maintain its functionality and high comfort of use. External vapour barrier is washable and possible to chemical or vapour disinfection. It is perforated and laminated with off loading foam. Due to this fact, the fabric is breathable and reduces the pressure of aluminum stays and splints. Off-loading foam is connected with soft, comfort foam improving the comfort of use. It's laminated with soft, breathable cotton with pH neutral for human's skin. This knitted cotton is certified with OekoTex Standard100 and fully skin-friendly.
ALLOWABLE DISINFECTANTS !!!
Type of active agent or surface-active agent
Maximum content in disinfectant
Spray the surface of the device with disinfectant, leave it for disinfectant's activation, then wash the device and dry it.
2-propane
35%
1-propane
25%
Ethanol
10%
Alkyl Dimethyl Benzyl Ammonium Chloride
0,2%
Glucoprotamine
25%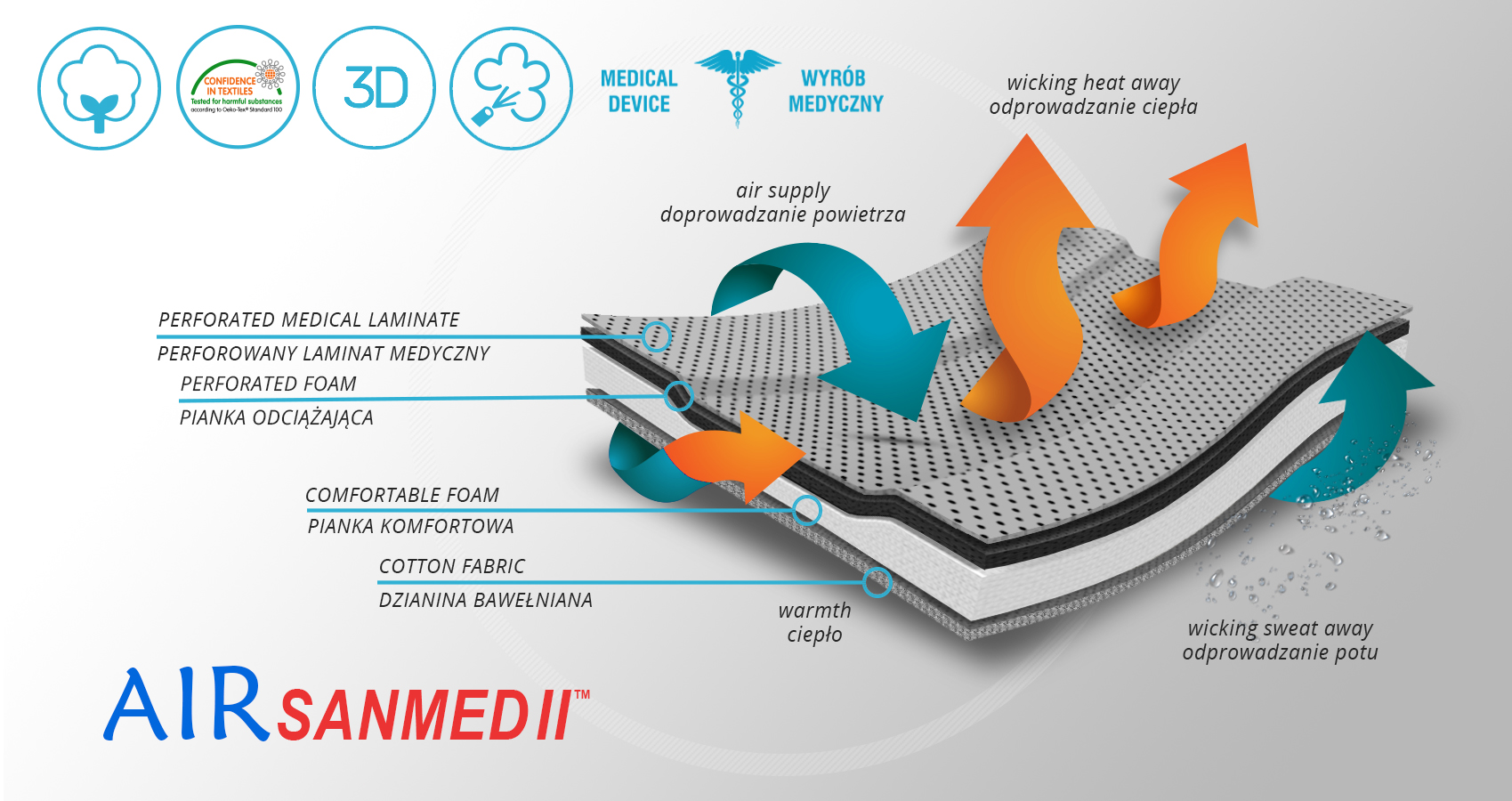 Fasteners of the product are made in the new asymmetric way. This allows for a better fit of the product to the patient in terms of one size. The fastenings have been made in assimetric way. This let for better fitting the product to patient's body in one size range.
In the back of the brace is installed depending on the size, four or six high, anatomically contoured orthopedic stays.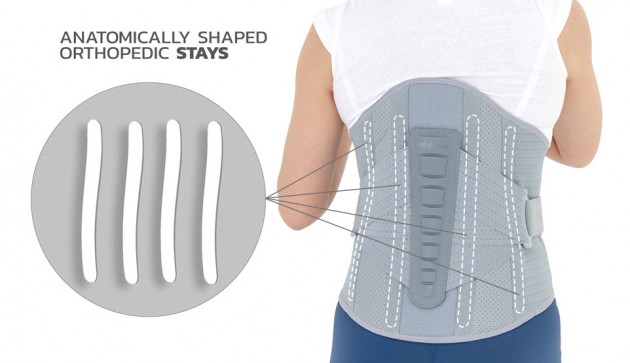 Orthopedic liners have a specific degree of flexibility that was achieved in the process of hardening and have been in a professional manner protected powder coating, which become resistant to the effects of human sweat.
As the stabilizing elements used in the rear brace system of bilateral double nonelastic tightening straps made of Air Rubber III.
AirRubber III™ has unidirectional elasticity. It can be stretched, increasing the length, not width, what improves compression. Between the braids air flows freely and skin can breathe. In addition in high compression, these rubber braids provide a gentle massage for skin. Our orthopedic rubber is very friendly for skin.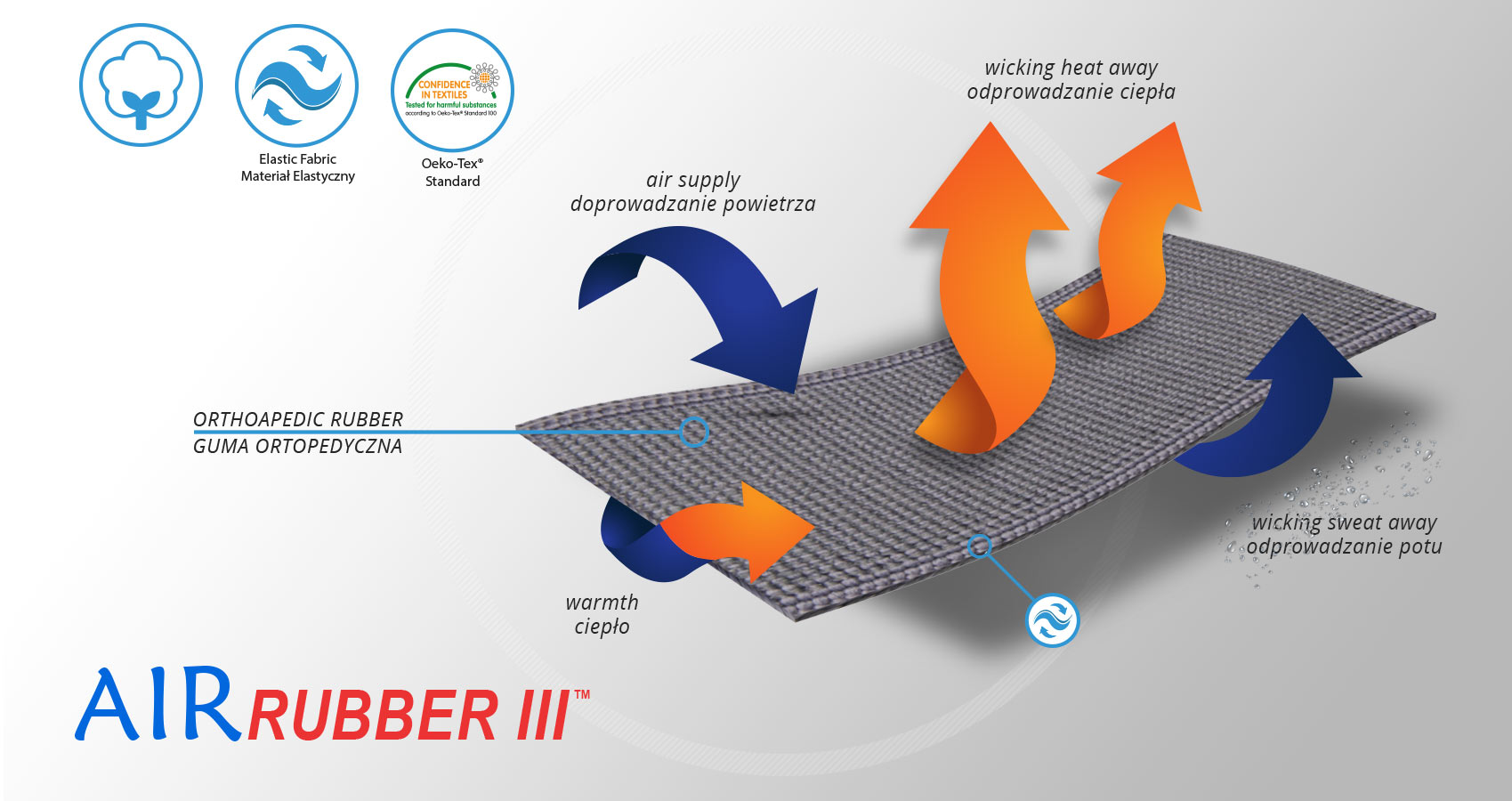 Lox brace is a 2-point orthosis, allowing you to modify any product stabilization force, during the period of coming back the patient to health.
As a spanning two systems were used:
1. Aluminium rigid spine stabilizer equipped with a non-elastic side straps attached to anatomically contoured buckles. At the ends of the bands are mounted plastic components for easy regulations of tensioning assemblies.
2. lumbar malleable pad of truss having flexible rubbers fastened to the orthopedic anatomically profiled clips. At the ends of the bands are mounted malleable components for easy regulation of tensioning assemblies.
Optional high lumbar-thoracic orthosis LOX can be equipped with a stabilizer with under-arm strips and / or lumbar silicone pads of truss equipped with special massage tabs. This insert automatically adapts to the anatomically correct position of the spine causing back massage at the same time continuously.
Available sizes
Size
Waist circumference
How to measure
S
65-75 cm
(25,6″-29,5″)
M
75-85 cm
(29,5″-33,5″)
L
85-97 cm
(33,5″-38,2″)
XL
97-110 cm
(38,2″-43,3″)
XXL
110-125 cm
(43,3″-49,2″)
XXXL
125-145 cm
(49,2″-57,1″)
Total height of the product:
front: 19 cm (7,5″)
rear: 38 cm (15″)
Shipping costs The price does not include any possible payment costs
Product reviews (0)