Universal Shoulder Brace With A 15°, 25° And 45° Cushions
Availability:
OUT OF STOCK
Description
UNIVERSAL SHOULDER BRACE WITH A 15°, 25° AND 45° CUSHIONS
Rotator cuff injury
Rotator cuff is the group of four distinct muscles and their tendons called: supraspinatus, infraspinatus, teres minor, and subscapularis. They provide strength and stability during motion to the shoulder complex. Common injuries to the rotator cuff includes tear tendons, tendinitis or impingement syndrome. Most injuries occur during sport activity or working in construction.
After injury, the shoulder becomes painful and has limited mobility. When the injury is not severe, the shoulder may be treated without surgery, but joint immobilization is crucial. Perfect product to immobilize upper limb is our shoulder brace AM-SOB-06 with a 15, 25 and 45 degrees cushions.
Product's description
Shoulder brace AM-SOB-06 is a high quality medical product. The brace is equipped with 2 cushions providing smooth shoulder rotation.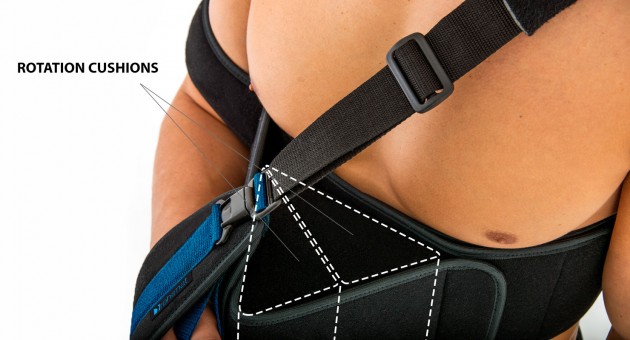 Depending on the way of using, our shoulder brace AM-SOB-06 provides 3 degrees of internal rotation: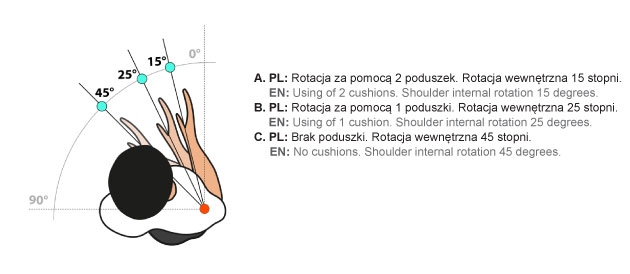 Shoulder brace AM-SOB-06 is made of innovative fabric ActivDistance™.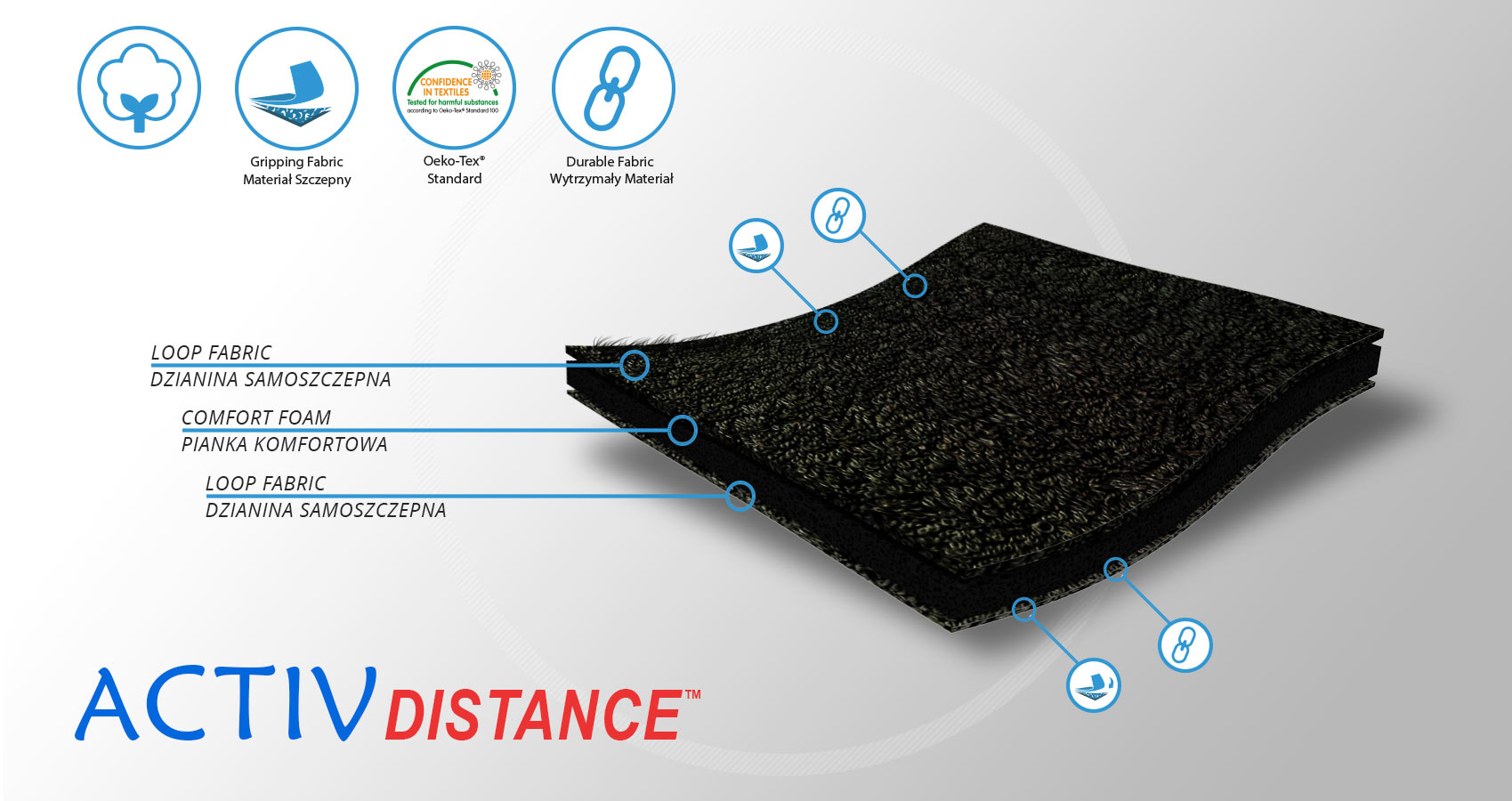 ActivDistance™ is 3-layered lamination, made of comfort foam and 2 non-elastic polyamide layers. ActivDistance™ is not elastic what improves stabilization. The foam inside makes our fabric very soft and comfortable. ActivDistance™ is self-gripping in both sides, so you can fit our devices perfectly.
Our shoulder brace AM-SOB-06 may be used in 3 different ways: using of 1 or 2 rotational cushions or without them – in this case the brace works like a professional sling.
Shoulder brace is breathable and provides high quality of using.
Due to the fact that our fabric is easy to attach, our shoulder brace is available in one size. Also, the brace includes special additional Velcro strap which may be used in case of bigger circumferences of the patient.
Thanks to innovative design, our shoulder brace AM-SOB-06 fits for both upper extremities.
The sling has quick-release buckle so you may apply our product by your own and you don't need others help.
What is more, our sling is equipped with thumb loop which keeps the limb in one position and prevents against its sliding.
Our shoulder brace AM-SOB-06 is advanced product which provides smooth adjustment of internal rotation in 15°, 25° and 45°. Our product keeps the head of the humerus in the glenoid fossa of scapula precisely.
Reduce your stock level with our one product for all people.
Purpose of use
- rotator cuff injury
- the glenoid labrum injury
- shoulder dislocations
- shoulder surgery
- in conservative treatment (rotator cuff inflammation, shoulder subluxation or dislocation, humerus fracture)
Available sizes
| | | |
| --- | --- | --- |
| Size | Chest circumference | How to measure |
| Universal | min 70 cm (27,6″) – max 145 cm (57,1″) | |
Fits for both hands.
Total height of the perimeter belt element: 12 cm (4,7″)
Per one set a customer receive a brace with two different cushions
Product reviews (0)