Close High Abdominal Belt
€10.40 €4.17
€9.33 €4.17
Dynamic Upright Knee Frame With Adjustment In Every 20 Degree
Availability:
ON REQUEST (~2-14 days)
Description
RAPTOR/2RA
DYNAMIC UPRIGHT KNEE FRAME WITH ADJUSTMENT
IN EVERY 20 DEGREE
POSTERIOR CRUCIATE LIGAMENT INJURY (PCL)
Posterior Cruciate Ligament (PCL) is strong, elastic bands of tissue, connecting tibia and femur. It's more stronger than anterior cruciate ligament (ACL). PCL prevents the femur from sliding off the anterior edge of the tibia and to prevent the tibia from displacing posterior to the femur. Together with ACL forms knee joint.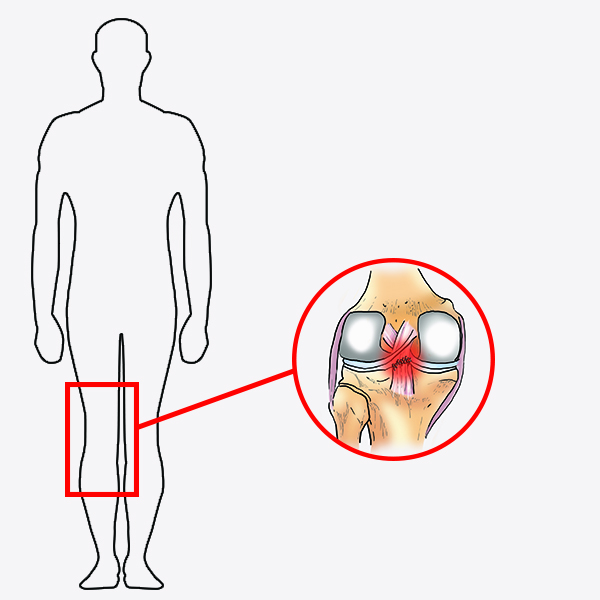 Cruciate ligaments of knee allow us to live in active way. They support such physical activities as: jumping, swimming or running. Unfortunately, together with surrounding soft tissues, they may be damaged easily during daily activities. Very often, together with PCL, other ligaments and meniscus are torn.
The posterior cruciate ligament (PCL) is susceptible to injury during hyperflexion, hyperextension and in a mechanism known as a dashboard injury. PCL lies deep within the knee joint and due to this fact, high forces may torn it such as car accidents, which are 50% of total amount of isolated injury to the PCL. In this injury the knee experiences impact in a posterior direction during knee flexion toward the space above the tibia.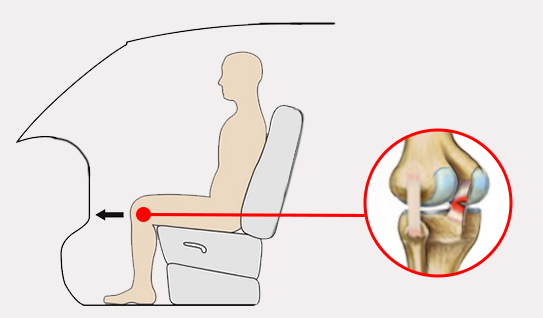 Furthermore, PCL injury is common in many sport disciplines. During sports activities, the PCL also can tear when an athlete falls forward and lands hard on a bent knee, which is common in football, basketball, soccer and especially rugby. Every sudden motion of knee twisting or jumping can result in ligament injury.
If you suffer from PCL injury, you can have one from 3 types of sprains, classified according to a traditional grading system:
1. Grade I – only microscopic tears in the ligament,
2. Grade II (moderate) – the ligament is partially torn, and the knee is somewhat unstable,
3. Grade III (severe) – the ligament is either completely torn or is separated at its end from the bone that it normally anchors, and the knee is more unstable.
In mostly cases (grade II and III), the treatment of injured posterior cruciate ligament do not require surgery and full recovery is achieved with physiotherapy and joint stabilization. In case of grade III, the surgery is necessary.
No matter if treatment is conservative or not, the professional knee ligament brace is crucial! The brace will provide knee stability and protect the PCL against further injuries.
To do that, many doctors and experts highly recommend our lightweight functional knee brace RAPTOR/2RA.
Product description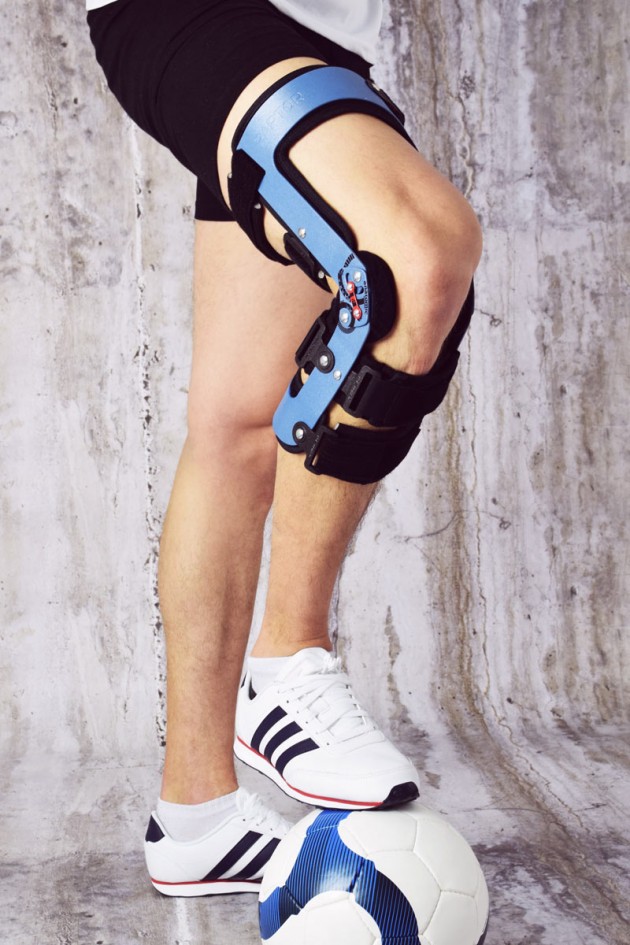 Functional knee ligament brace RAPTOR/2RA is an excellent treatment option in case of PCL injury and protection. RAPTOR/2RA knee brace is designed to resist varus and valgus forces applied to the knee and prevent against the posterior tibial translation (drawer syndrome).
The knee brace is made of extremely strong and lightweight aluminium 6061 T6 frame, which is used in aeronautics guarantees the best stabilization in the market. Additionally, the frame was hot covered by powder dye so that it would be resistant to moisture. Thanks to that solution, the frame is fully indifferent to water as well as sweat.
The knee brace is equipped with 5 straps and special cushions that are additionally protection and minimize brace migration.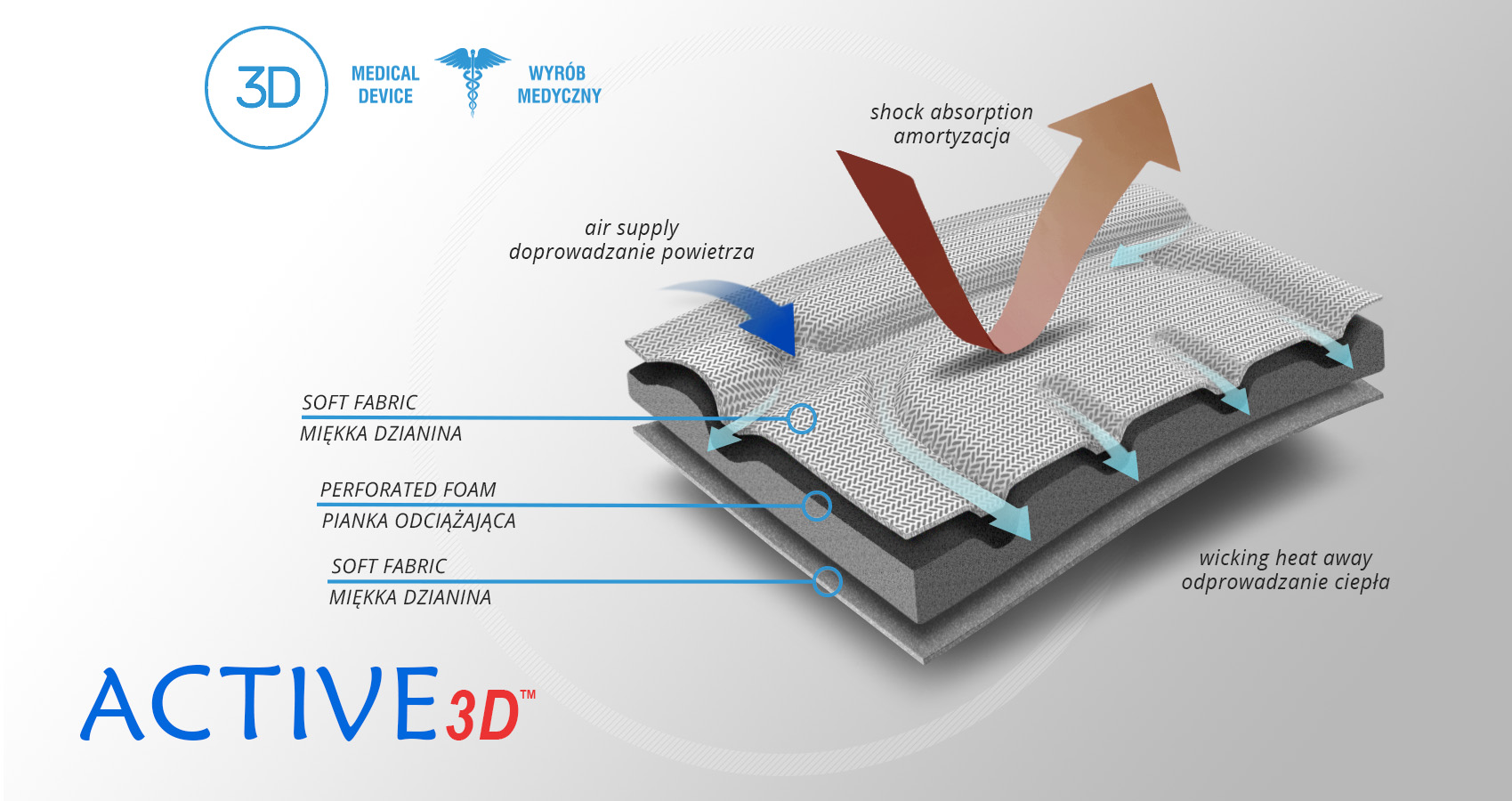 Active3D™ is thermoformed fabric made of special foamed, cell-closed designed material. It reduces the pressure on the body or any abrasions made by orthopaedic stays and aluminum splints. It is fully waterproof fabric and does not absorb sweat. It's easy to clean. Due to its features, the fabric is an excellent product for making medical orthopaedic braces and orthoses. ACTIVE 3D™ has various external self-gripping layers. Our material has special, thermoformed properties and may be shaped according to the functional goals of the final braces.
Internal soft lining of the frame is made of comfort EVA foam, covered cotton and terry layer what helps to avoid the skin allergy.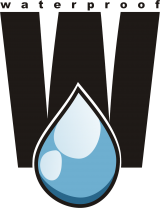 Our knee brace RAPTOR/2RA was tested in brine and passed it with flying colors!
RAPTOR/2RA is our waterproof guarantee!
Functional knee brace RAPTOR/2RA supports your knee in sagittal and frontal plane. The brace is equipped with 4-point dynamic leverage system that helps prevent further knee injuries.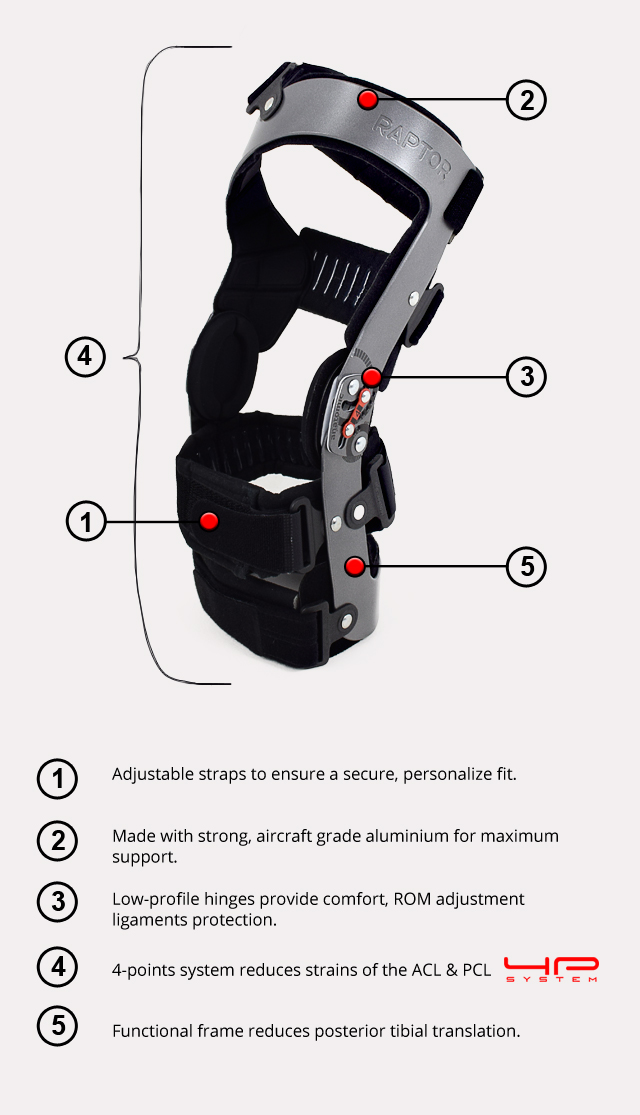 In case of posterior cruciate ligament (PCL) injury tibia goes backwards relative to femur. Front and rear construction of the frame allows to reduce posterior tibial translation (posterior drawer syndrome).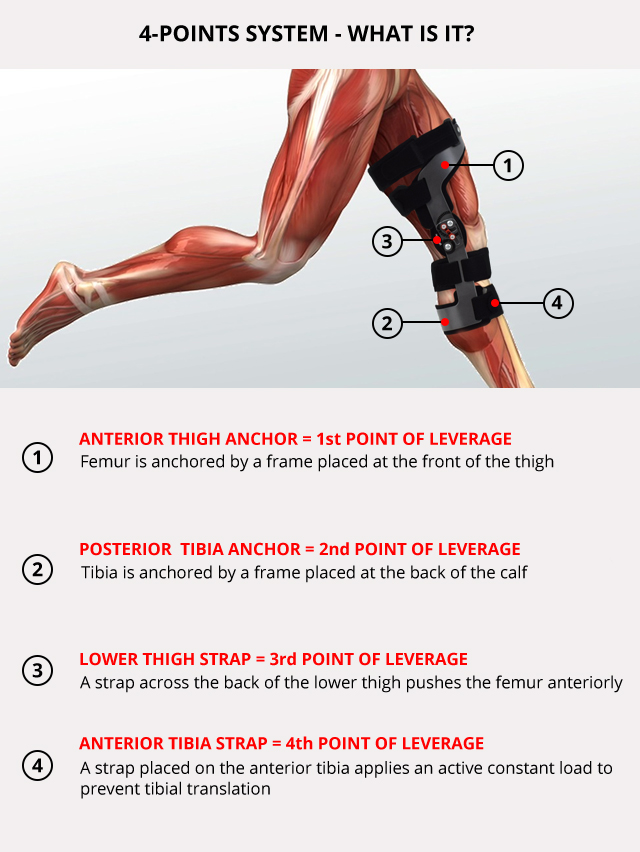 Due to lightweight aircraft aluminum you can use RAPTOR/2RA knee brace everywhere you need:
Purpose of use
- PCL instability
- injured/strain PCL
- injured/strain ACL
- MCL/LCL/ACL instability
Available sizes
Size
(A) Thigh circumference 15 cm above the center of the patella
(B) Calf circumference 15 cm below the center of the patella
How to measure
S
40 – 44 cm
15,7″ – 17,3″
30 – 34 cm
11,8″ – 13,4″
M
44,5 – 48 cm
17,3″ – 18,9″
34,5 – 38 cm
13,4″ – 15″
L
48,5 – 52 cm
17,3″ – 20,1″
38,5 – 42 cm
15″ – 16,5″
XL
52,5 – 56 cm
20,5″ – 22″
42,5 – 46 cm
16,5″ – 18,1″
Right and left leg specific.
Total length of the product:
S – XL: 36 cm
BRACE BAG INCLUDED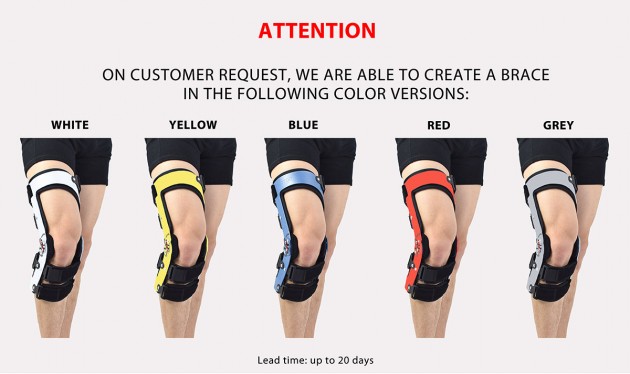 A brace made on customer's request cannot be returned.
Setting up
1. Unblock the drop-lock to obtain the maximum range of flexion and extension of the brace.
2. Unbuckle the separate stabilizing straps.
10. To avoid tangling of the straps, after unbuckling the straps, they should be connected to the velcro again.
11. Set the lower limb in 120 degrees flexion and insert the limb to the brace.
12. Interlace the lower shin strap (no 1) and fasten it.
13. Set the drop-lock on the knee joint precisely, interlace back thigh strap (no 2).
14. Interlace the back thigh strap (no 3). WARNING! The tension of the back strap results in displacing the drop-lock. The tension of the strap should be appropriate – so that the drop-lock would be placed accurately on the knee joint.
15. Flex the knee joint up to 70 degrees and in such position fit thightly the front strap (no 4). Note that soft anti-sliding cover should be placed in the middle of the shin.
16. Straighten the lower limb up and fit the back calf strap (no 5).
ATTENTION:
4. RAPTOR 2RA was equipped with soft anti-sliding tacky covers. They should be placed precisely so that the middle point would be in the lower limb axis. If needed, the covers may be cut a little bit. Such step will not damage the frame and there is no need to protect it additionally.
5. Circumferencial straps of RAPTOR 2RA are equipped with hook and loop fastener. Moreover they are internal regulation systém that let a patient set the strap individually according to his needs.
6. If needed, the internal soft part can be removed from the frame – a patient may hand-wash it.Do not disinfect it with chlorine, do not spin, etc.
Oprional equipment
Shipping costs The price does not include any possible payment costs
Product reviews (0)