Close High Abdominal Belt
€14.01 €4.30
€12.57 €4.30
Light Open Lower Limb Brace With 15° Rom Adjustment
Description
LIGHT OPEN LOWER LIMB BRACE WITH 15° ROM ADJUSTMENT
Product description
Long light knee brace IB-SKL/1R with the wrap-around design is the professional medical device 1st class, which improves the gait and the rehabilitation process. It is made of ProFit™ material which means precise fitting.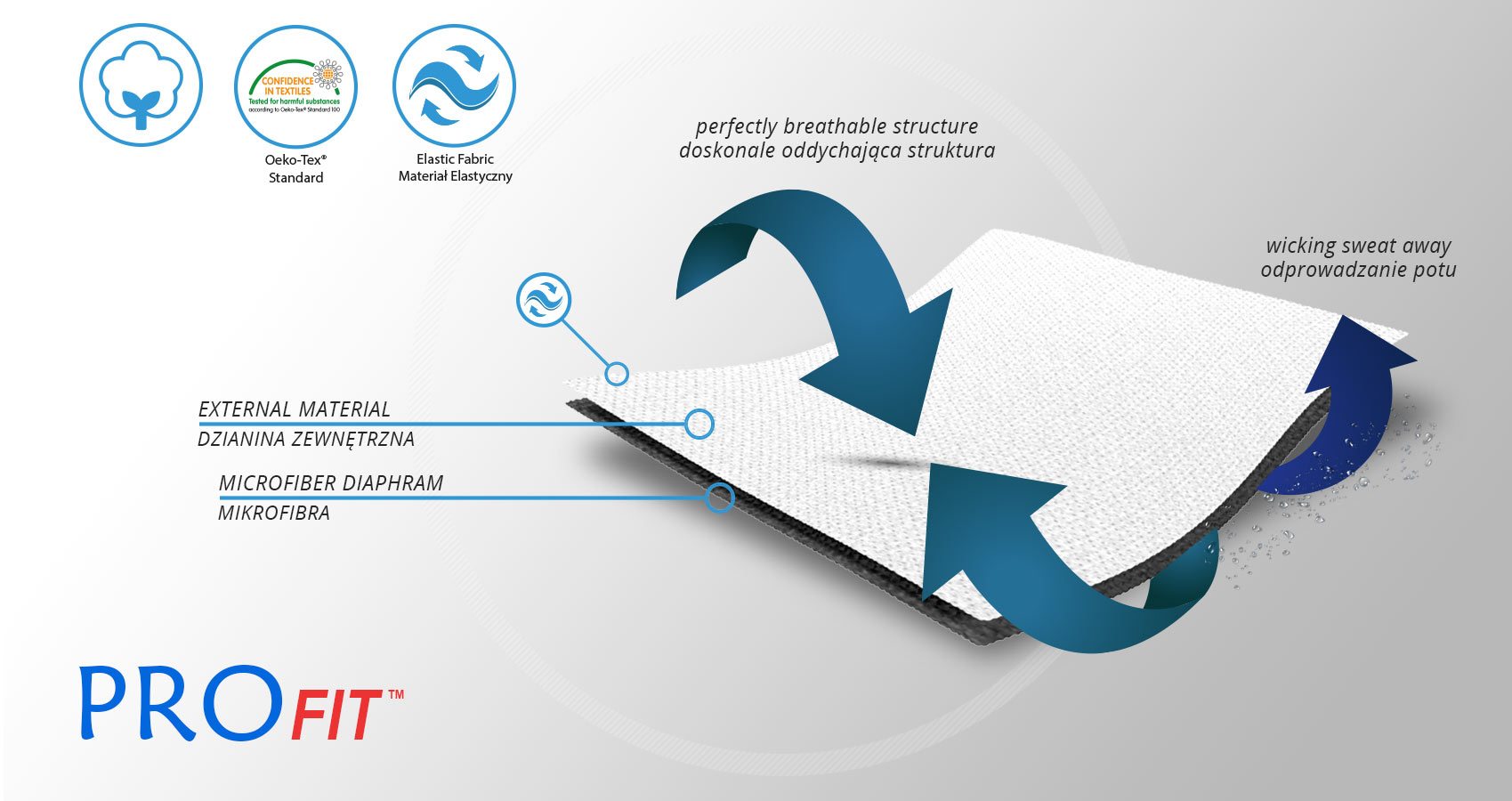 ProFit™ is a double-layer fabric that is elastic in all directions and fits to limb precisely. The external side is made of spandex providing excellent compression and absorbs muscle shocks in physical activity. The internal side consists of microfibre, cotton and elastane what makes it skin-friendly, breathable and provides velvet softness. ProFit™ is friendly and neutral for the skin and has Oeko-Tex Standard 100 certificate.
The device contains four independent Velcro straps and two 2-axial anatomical side splints. These splints, during the movement, reflect the natural anatomical knee joint work, what prevents the changing of their position against the knee axial.
The IB braces group is the best solution, especially for seniors, with high quality and unrivalled price. Thanks to their sides stabilization, patients with chronic knee instability caused by joint degeneration, can walk without crutches and walking sticks. Furthermore, the IB braces has the wrap around construction, which is very helpful for putting it in and off.
The side parts are made of innovative material called AirSanmed™.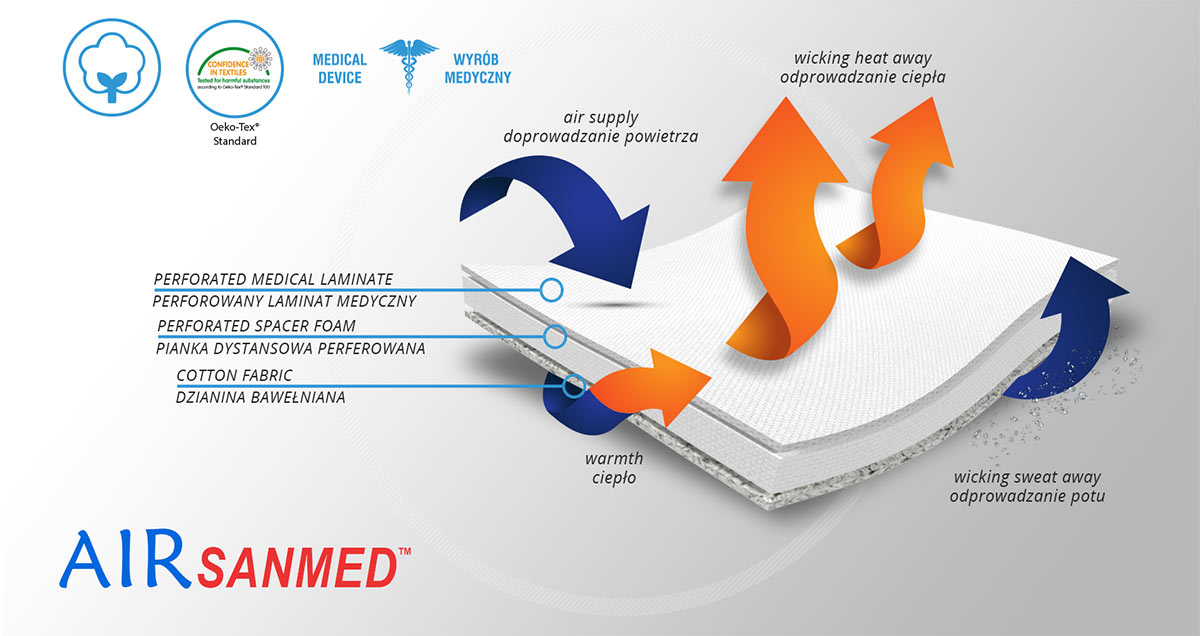 AirSanmed™ isn't elastic what provides excellent stabilization. The skin has contact with cotton terry with Oeko-Tex Standard 100 certificate. There is semi-rigid perforated foam EVA inside that protect the skin against the metal splints influence. External side of the fabric is perforated medical laminate with antibacterial properties of Silver Zeolite. It provides long-term efficacy and prevents the most dangerous infectious microorganisms such as MRSA and E.coli. AirSanmed™ is in accordance with Health Minister`s ordinance of 3 November 2004 and Council Directive 93/42/EWG of 14 June 1993.

The brace has the excellent sides stabilization thanks to two splints with 1R drop lock, which provides 15° ROM adjustment. It prevents knee contractures and improves rehabilitation passively.

Each IB brace is equipped with two anatomical shaped silicon pads, which stabilizes and supports the patella.

The IB braces have four Velcro straps with plastic ends, what make the using easier.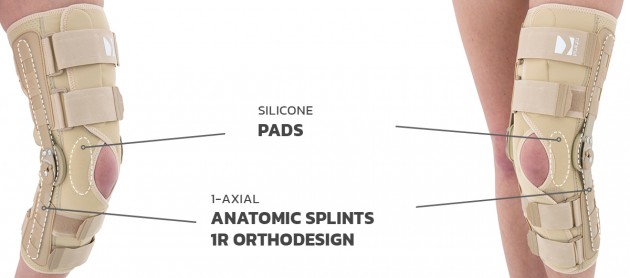 Purpose of use
after injury of the knee which didn't require surgery (dislocation with damage of ligaments, muscle sprains and strains)
in postoperative rehabilitation as an prevention through knee contractures
joint degeneration and/or knee instability due to injury, illness in case of patients not qualified or refusing surgery treatment
atony of lower limbs in case of upright standing and learning to walk
Available sizes
Size
(A) Thigh circumference 15 cm above the center of the patella
(B) Calf circumference 15 cm below the center of the patella
How to measure
M
min 44 cm – max 48 cm
(min 17,3″ – max 18,9″)
min 34 cm – max 38 cm
(min 13,4″ – max 15″)
L
min 48 cm – max 52 cm
(min 18,9″ – max 20,5″)
min 38 cm – max 42 cm
(min 15″ – max 16,5″)
XL
min 52 cm – max 56 cm
(min 20,5″ – max 22″)
min 42 cm – max 46 cm
(min 16,5 – max 18,1″)
Total length of product: 36 cm (18,1″)
Setting up

1R orthodesign splints

The orthopaedic splints 1R is the innovative solution with flexion and extension adjustment. The drop lock is very small (diameter: 30 mm) and provides 15° ROM adjustment. In addition, we apply the allen screws, which are mounted by steel pins and magnet. The most innovative is the blocking disk with the ratchet, which ensures required angle of ROM.
Shipping costs The price does not include any possible payment costs
Product reviews (0)